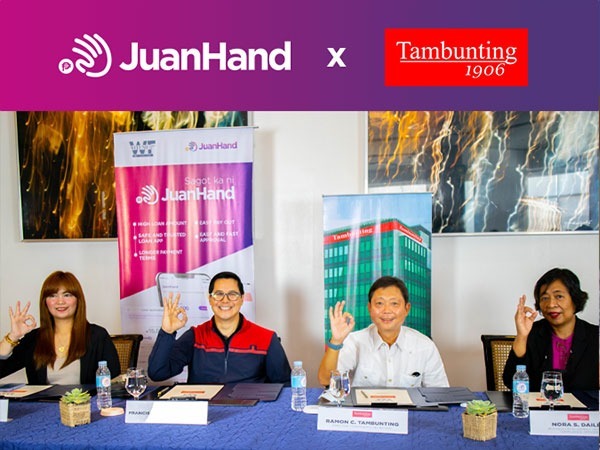 JuanHand x Tambunting (TSPCI)
Tiwala sa Padala Co., Inc. (TSPCI) is owned by the "TAMBUNTINGS" who are widely known in the financial service industry for offering pera padala, money changing, pawnbroking, and other services to the public. It is a remittance company with the Securities and Exchange Commission under Registration Number CS200804240. On the other hand, JuanHand is operated by WeFund Lending Corp. as one of the Fintech platforms available in the country providing financial services as it is focused on extending a helping hand through the use of its loan application available for use by all Filipinos. It is operating with a Company SEC Registration No. CS201825672 and Certificate of Authority No. 2844.
Last 27th of September 2022, with a partnership agreement of referral program to ensure everyjuan's cognizance and access to JuanHand services and as to become one of the payment gateways for loan repayments and disbursements, JuanHand and Tambunting harmoniously signed the agreement at 22 Prime Discovery Suites, Ortigas, Pasig City with the exposure of Tambunting's Director/Corporate Secretary, Mr. Ramon C. Tambunting, the Business Development Officer/Compliance Officer, Ms. Nora S. Daileg, and the IT Administrative Head, Mr. Frederick A. Arcilla, as well as with the appearance of JuanHand's Chief Executive Officer, Mr. Francisco Mauricio, the Strategic Partnerships Head, Ms. Joanna Clarrise Raymundo, and the rest of the team.
This partnership aims to expand JuanHand's exposure to be able to reach more Filipinos who they can help through its cash loan and to be able to extend more helping hands for everyjuan even staying at home with the use of its continuously improving loaning application; JuanHand, as Tambunting touchpoints are more than 100 sites nationwide. As well as soon, Tambunting would be a backbone of JuanHand for wider repayment and disbursement gateways.
Both entities are excited and looking forward to providing excellent services for everyjuan.