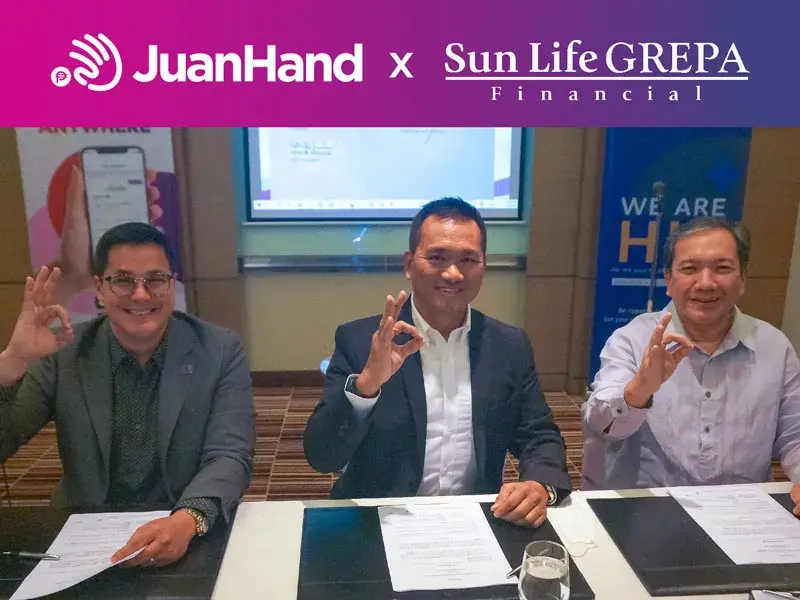 JuanHand x Sun Life Grepa
The Sun Life Grepa Financial, Inc. (Sun Life Grepa) and the WeFund Lending Corporation (WeFund) settled an agreement to provide Group Credit Life Insurance Policy through JuanHand, the WeFund's Fintech app or financial technology platform.
WeFund is dedicated in helping members in need. As a member of WeFund, you can be assured that your loans will be paid out in the event of your untimely demise. This loan protection program will cover you and your loved ones by paying the borrower's outstanding loans in case of untimely demise.
"I am very positive that we will bring value to both our organizations as well most importantly to our clients as well," Sun Life Grepa President Richard S. Lim said.
"I am very much looking forward to it. I am sure after 5 years this will be an even bigger and better partnership," WeFund CEO Francisco "Coco" Mauricio said.
The agreement was signed by Sun Life Grepa President Mr. Lim and Vice President and Vice President Mr. Miranda together with WeFund CEO Mr. Mauricio. 
In addition to its strong financial background, JuanHand also has an extensive network of partners and investors who will help them achieve their mission: "To improve the lives of Filipinos by providing them with access to finance".