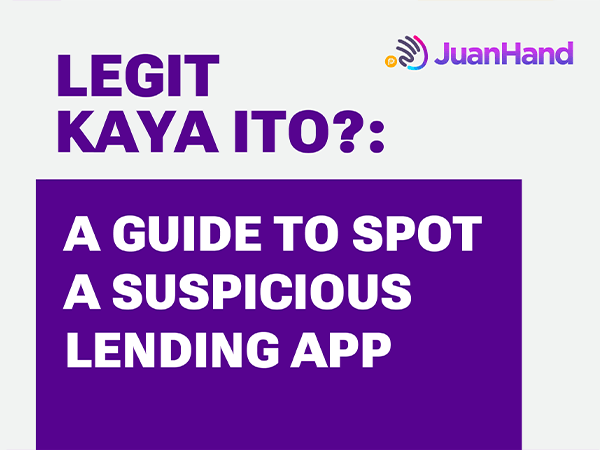 A Guide to Spot Suspicious Lending Applications
Getting a loan has never been easy, and with the fast-developing fintech industry, it's becoming easier for suspicious loan applications to take advantage of you. In times of emergency, you might find yourself looking for a quick loan that will cater to your financial needs. Many online applications will appear on your screen offering great deals and exceptional bargains. Many will be tempted by loan applications offering high loanable amounts with low interest rates, but how will you distinguish legitimate loan applications from suspicious ones? Read on to find out. 
With the rapid innovation of the internet and the continuously growing number of smartphone users, financial frauds targeting vulnerable individuals like the elderly and the financially illiterate are increasing. These fraudsters build seemingly positive and "too good to be true" online loan offerings that are highly appealing to netizens. Borrowing money through online applications indeed makes people's lives a lot easier so it is really important for everyone to be educated on how to identify a legitimate loan application vs suspicious loan application.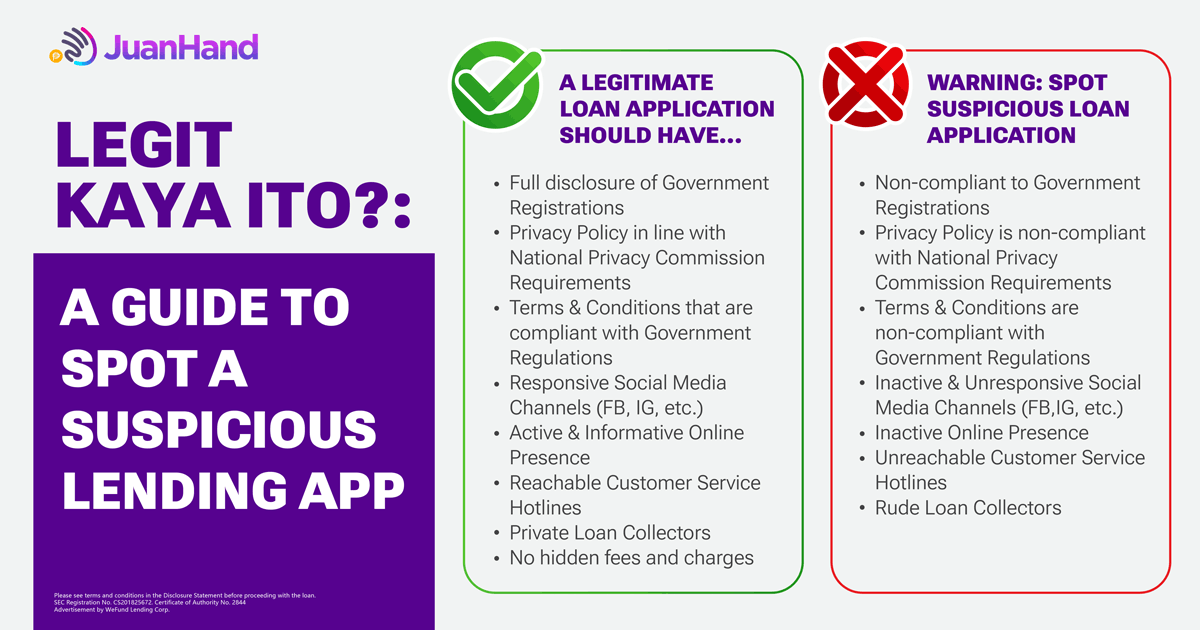 Don't be a victim of fraudulent loan applications that aim to deceive and take advantage of those who are in dire financial need. If you want a legitimate loan application, it is best to conduct research first and check if the application you will be using is operating legally. A legitimate loan application is first and foremost registered with the Securities and Exchange Commission and has completed all the requirements mandated by law for a Lending Company. Its social media platforms are interactive, informative, and responsive. Furthermore, a legally operating Lending Company must also own a website that provides all the information related to their products and service features. Due to the nature of its business, a legitimate Lending Company also has an active local phone number which its borrowers can reach at the very least during its operating hours. It is fully transparent with all the necessary charges and has no hidden fees. Most importantly, a legitimate Lending Company has polite collectors who will not threaten you, your family, or your friends before or during your payment date. Its collectors will not employ fraudulent, illegal, or unethical means of collecting your dues in case you miss your payment date.
Protect your finances and choose the best loan application that sincerely has an objective to lend a hand in times of need. JuanHand hopes that this guide on how to spot suspicious loan applications will help you choose your trusted Lending Company before the suspicious ones rip you off. Be safe, be secure, by being informed – ka-Juans!